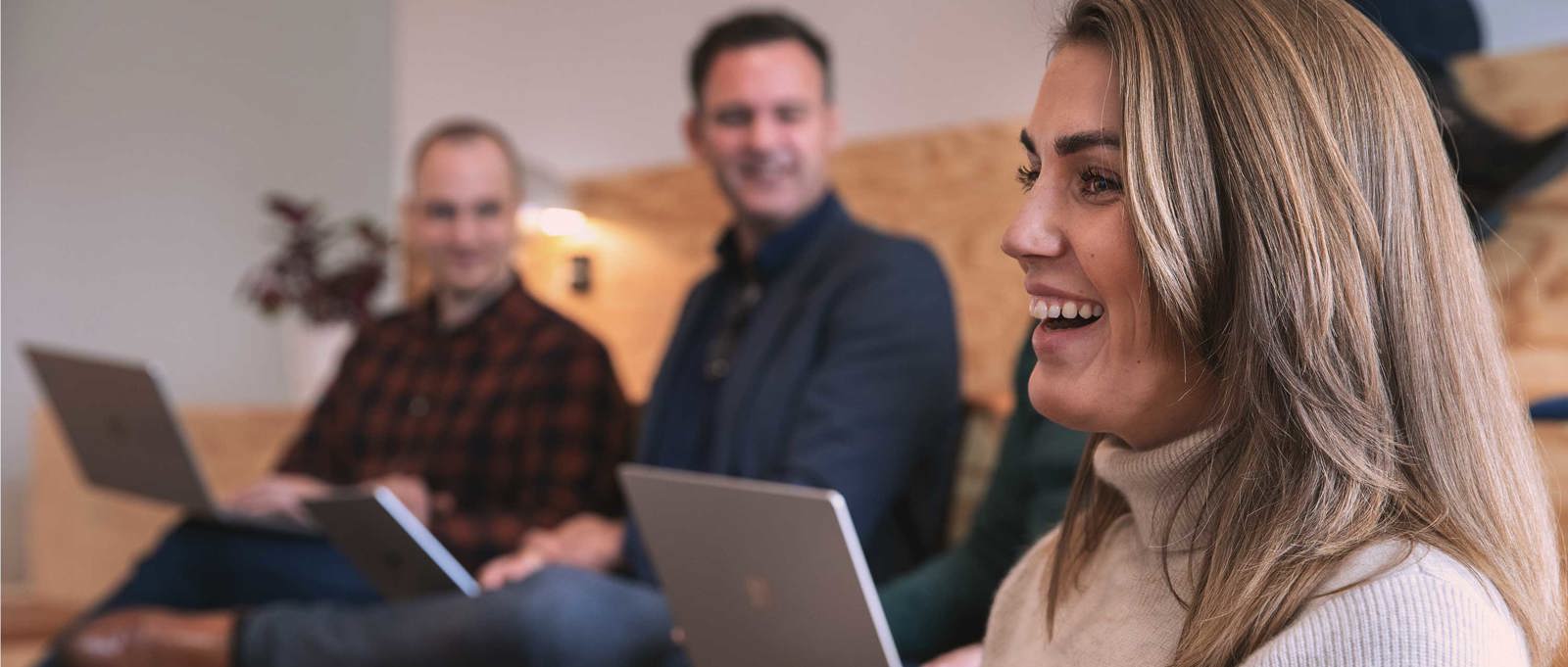 Tone of Voice
This is basically your Go-To Guide on how to communicate aligned with both our Communications strategy and Brand. It does not contain rules- see it preferably as an arrow pointing in a direction.
By the way, It's called a 'Tone of Voice'.
Why have we made it?
To help us all communicate aligned to our brand. We are quite many in the company and it's good to take a step back and make sure that everyone knows what we want to do, where we want to go, and how we aim to do it. How we communicate along the way will affect the journey.
What should you do with it?
Think about how you express yourself when you talk to our customers and soon-to-be customers. Whenever in doubt, this little piece will hopefully guide you in the right direction.
Many writers, one brand
The role of web writing is often decentralized, with many different content authors in many different places. These guidelines act as a central reference to keep the overall voice consistent.
Consistency is memorable
As you aim to deliver great experiences for your customers, giving them a consistent encounter can help build loyalty. Think of the microtext you loved on the original Flickr, or why you get a kick out of MailChimp. They didn't just pick default text, they created a voice to fit their brand and culture. And they made this ubiquitous.
Innovative
Being innovative means coming up with new ideas and breaking boundaries. Think of Simployer as thought leaders in HR/Tech/ Expertise. It also means being ahead of our customers. Us being innovative makes our customers more successful. Partnering up with us means they'll be safe with best practice.
How can I be innovative?
By sharing insights and thoughts and by challenging our customers.
Simple
Being simple implies "ease the burden" and creating "aha"-moments. "Aha! It's that simple?!" With a solution-oriented mindset we empower our customers and turn them into masters of their domains. The keyword is: simple!
How can I be simple?

Always think "easy to understand, clear and direct". Turn the customer's challenges into small steps that are easy to understand and overview.
Inspiring
Inspiring persons are often also brave. What they do goes straight to the heart. Therefore, be the genuine person you are in your relationship with customers. We are a people-first company. We create relationships that makes people's work life easier. Be proud of that.
How can I be inspiring?
A great start is to be personal and to drive the conversation forward. Share who you are and don't be afraid to speak up.
1: Be yourself.
Being authentic builds trust. Trust drives business.
2: Don't make it too difficult.
Easy to understand, easy to use. Being simple is in our DNA.
3: Write it like you say it.
The informal approach triggers dialogue. Knowing our customers is crucial for revenue.
4: Use words we know.
Buzzwords are fun but also pointless if they're for showing off. We do business with people - not companies.
5: Read it out loud.
Is there a vibe to that e-mail or did you stumble? If it sounds nice, it probably is.
Content/author guidelines
There are several sources on the web on how to optimize your writing - classic examples being to chop your content into pieces to make it short and scannable. Beyond this, we have a few challenges that are ours to control.
Simployer is our brand - not one of our products. Be specific.
This is a tricky one - since our HRM application and/or suite is the original Simployer. If you mean Simployer HRM, or any of the modules or features, be specific.
Do not:
"We are experiencing slow response times in Simployer"
"Go to Simployer to see the invoice"
Do:
"We are experiencing slow response times in the HRM Vacation module"
"Go to Simployer Expense to see the invoice"
Avoid overusing our brand name
A random check on one of our landing pages reveals that "Simployer" is used over 30 times. For our visitors, this can seem repetitive and lacking in personality. 
Again - remember: Simployer is the brand and everything we do - not only an application. Simployer is the context on our web sites, in our presentations, etc.
Simployer: (the company/brand)
we, us, our...
Simployer: (applications)
Our HRM-system, the compensation module, our suite of applications, our software....
Do not:
"The Simployer HRM-system is built on a secure and modern HR masterdata-model, and..."
"Simployer helps businesses make the employee journey a success – by managing, developing and inspiring the individual employee." *
*Note - this could be correct - providing we are talking about the entire business - and not one single application.
Do:
"Our HRM suite of applications is based on secure and modern HR masterdata.."
"We help businesses make their employee journey a success – by managing, developing and inspiring the individual employee."
Long/complex words
Web browsers use their own dictionary to know how to split and handle certain words. These dictionaries are built from common words used on the web. Trouble is - we have a lot of compound words that aren't really that common - so browsers do not know how to handle them. This applies to all languages we use in our communication. Words will be broken up in odd ways, or some times not at all - leaving them cut off.


Be your own critic- Try to rewrite. If this isn't possible, you can use a little HTML-tag to tell browsers where this specific word should be split:
Use
­

in your HTML editor to break things up into the right words:
sykefraværshåndtering
In certain scenarios, there will not be room for this word (remember to check you screen widths)
sykefravær-
shåndtering
sykefra-
værshå-
ndtering
syke­fraværs­håndtering
­ tells the browser where it may break up the word - so this will only happen if there isn't room.
syke-
fraværs-
håndtering
sykefraværs-
håndtering
Keep links to the point, avoid bloat
Try to avoid expressions such as "click here to", or "read more". Be specific about where the link takes you. 
This is also good practice for SEO and screen readers.
Do not:
"Read more about Simployer HRM here"
"Read more here"
"You can see all HRM-modules here"
"Submit form"
Do:
"More about Simployer HRM"
"Our history"
"View all HRM-modules"
"Try Expert help now"